How you can GIVE to the work and ministry of
trinity alliance church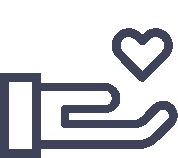 Each one must give as he has decided in his heart, not reluctantly or under compulsion, for God loves a cheerful giver.
Trinity Alliance Church
maintains four main funds
​
General Fund
for building and operating expenses
​
Great Commission Fund
for supporting our international workers
​
Benevolence Fund
for those in need within the community
​
Building Fund
for church building expansion
Give in church.
Offering envelopes are available to help specify certain funds as desired.
Text to Give.
1. Text amount to 84321. (ie $5 or $5.00)
[this is a shared code used by other churches in the area]
2. IF this is your first time, a set-up link will be sent back.
Tap the setup link to be guided to the next step.
3. Select Trinity Alliance Church.
4. Enter your email address and, if prompted, your name.
5. Enter the payment method you'd like to use for text-to-give.
6. Complete your initial setup donation. The initial donation, in most cases, will go to the default fund (usually the "General" fund). However, donations can be directed specifically to other funds.